After a good inaugural event, and an improved second year, we are pleased to put on an even better event in 2015 for our third stomp.
Changes for 2015:
2014 5K course redesigned to spend more time in the swamp and with great feedback, we'll keep a similar route.  We are adding obstacles to this section.
2014 8K was popular and we will be adding some obstacles to this section of the course also, the biggest feedback from last year's race.
Both courses are 65% in the woods or swamp
We added a race timing company so all will have a chip and be able to get their results accurately and quickly.  Another top recommendation we are implementing
Presented by: Bridgestone and Merck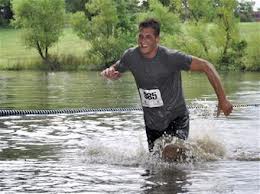 Help us stomp out hunger and homelessness while having a blast stomping under, over, and through various obstacles and some swamp areas.  100% of the net proceeds go to Hope Station, Wilson's food pantry and homeless shelter.
This is the third Swamp Stomp in Wilson; An obstacle running event that you can do as an individual or as a team.  See the course page for a map and general description of the obstacles.
There are two courses.  A 5K and an 8K.   Pick which challenge you wish to conquer.  No other obstacle run in the state offers two choices.
Location:         The event will be at Gillette and Toisnot parks in Wilson, NC.   

Address:        3238 Corbett Avenue, Wilson, NC
Date:               Saturday June 13th
Time:               Waves will start at 15 min intervals from 8am to 10am
Cost:                Varies for 5K/8K and when you register – Details on Registration page
Like us on Facebook to get updates on all the latest about the Swamp Stomp.